An Outsourced Centre of Excellence for Compliance

Increased regulatory scrutiny and heightened global standards requires all financial institutions to constantly upgrade and improve. This is leading to an ever-increasing surge in AML operational volumes. This, coupled with traditional IT systems and manual workflows, has resulted in an increasing cost of AML/KYC compliance.
An outsourced service is a natural solution as financial institutions are struggling to expand their AML operations optimally.
Common operational challenges in compliance processes
The solution to these challenges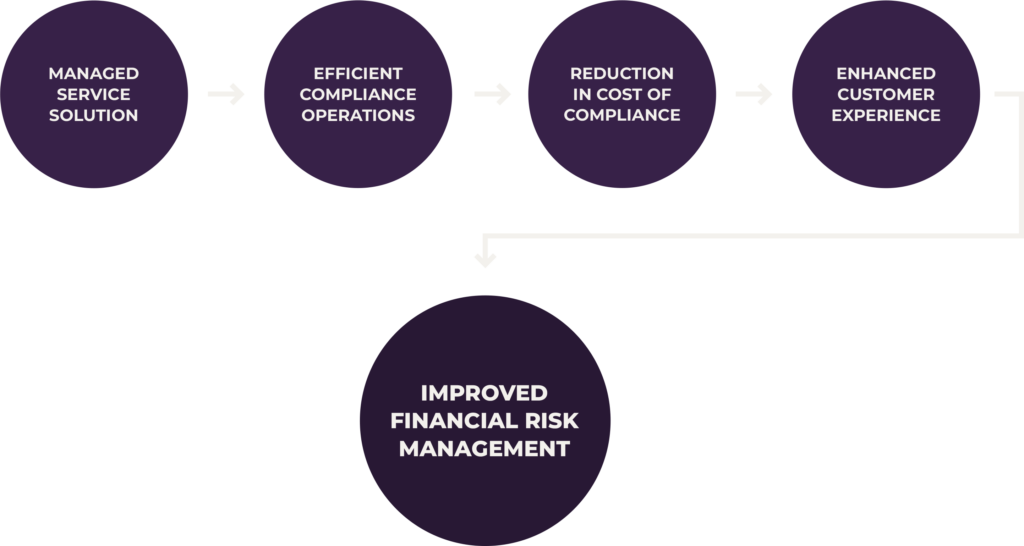 Enhanced Customer Experience

Improved Risk Management and Financial Crime Compliance

Building Onshore Solution with Skilled Resources



"Pay as you go" cost effective operating model
Option to cap monthly fees based on agreed number of cases
Targeting 30% to 50% cost reduction by automating significant manual processing
Enhanced Customer Experience
Intelligent automation of repetitive tasks and Work-flow case management
Online channels for self service capabilities
Ingest available public information direct from primary sources
Improved Risk Management and Financial Crime Compliance
Independent client outreach model eliminating chances of collusion
Site visits and verifications to strengthen the control framework
Regulatory assurance due to independent and credible engagement
Building onshore solution with skilled resources
Professional client handing of experienced and trained resources
Enhanced training and development capabilities
Providing in country data security comfort to regulators due to onshore presence
Economies of scale being a centralised hub for multiple players
Cloud Infrastructure to manage increase in volumes
Improved transparency into operational productivity, quality, capacity and forecasting
Achieving bank's / FI's internal quality standards by achieving consistent pass rates at QA
Build a culture of quality by aligning performance scorecard based on quality thresholds
Engagement with the local regulators to seek explicit approvals of outsourcing